Digital Marketing vs. Traditional Marketing – Is The Accolade of Digital Marketing Viable?

Why is every small, medium and large company planning to mark or enhance its presence online? Is digital marketing an over-rated phenomena or is it really more significant than traditional marketing in our modern era?
The impact of social media and digital marketing is clearly significant in our technology-obsessed world. The market behavior of individuals socially on the digital platform as a consumer has made it imperative for small as well as large scale corporate organizations to do business online. Many startups and organizations are seeking for online marketing agency to avail effectual online campaigns. Companies that have not registered their presence on the internet platform yet have the fear of losing out.
While many startups are referring digital marketing as their key to success, some large companies are getting huge business from their online campaigns. Although the essence of traditional marketing is not being hampered drastically by marketing digitally, the latter is being considered as a viable source of marketing to enhance the revenue.
The fundamental reason for the rise of digital marketing as an inevitable part of marketing is its benefits over traditional marketing strategies. With that said, here are some advantages of digital marketing in contrast to traditional marketing.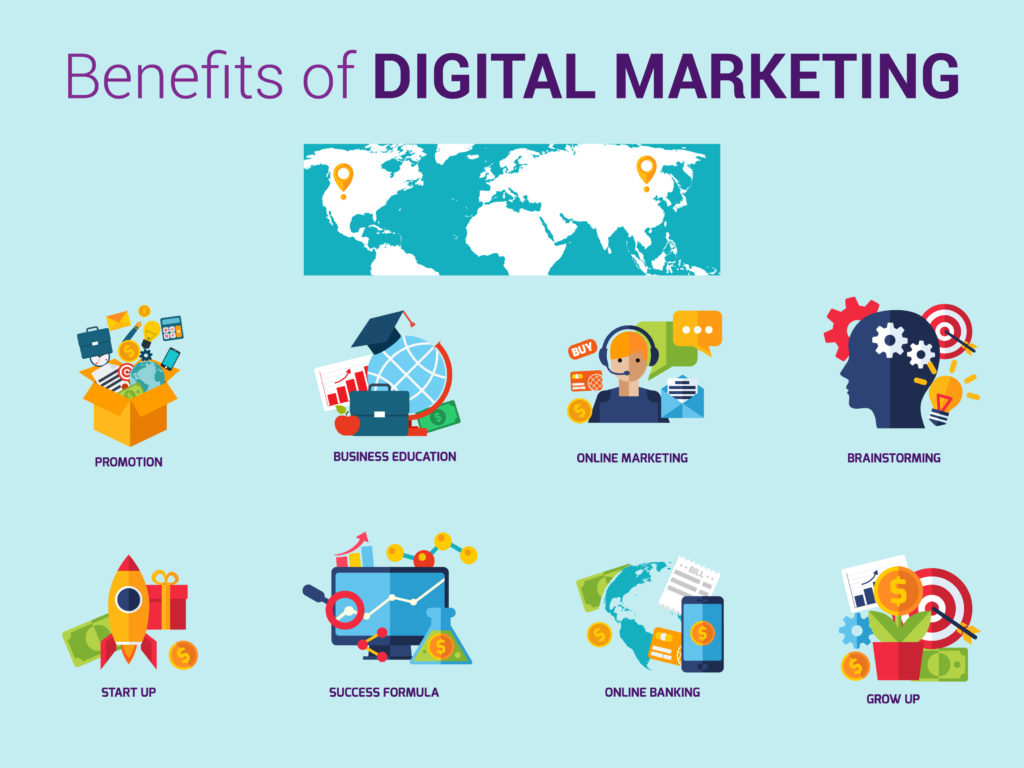 Greater Exposure
Your online marketing campaigns reach your target audience in their comfort zone. It meets their eyes while they are searching for something you offer or are socially active during their free time. It overcomes the geographical boundaries as your campaigns can reach people residing in six out of seven continents.
On the other hand, traditional marketing such as outdoor banners or hoardings are rigid and cannot reach the target audience in their comfort zone. Some people might miss out on your advertisement too. Moreover, this type of marketing is location-bound – it targets people within a specific region. Although the location can be widened, it would involve considerable marketing cost.
Equally Viable Platform
Digital marketing gives a level playing field to every company – irrespective of its size. It prioritizes smooth service and customer satisfaction ahead of a brand's name or size.
A small company may compete with the leading organization through an effectual digital marketing campaign. Moreover, a company that has a smooth website, offers satisfactory customer journey and manages to bring in traffic through its campaigns generate more revenue in the online market.
This opportunity is not realistic in traditional marketing as small companies might not find it feasible to match the fixtures and promotions of the large companies.
Greater Engagement
Digital marketing campaigns invite greater engagement and interaction of target audience than its traditional counterpart. Your customers can check out your products or services by visiting your website instantly, buy them, rate them or seek effectual support from you.
Traditionally, the customer engagement rate is much lesser as customers may not be keen to write a letter to review or rate your products. Alternatively, the time and effort required to get in touch with you may discourage them to ask for a product or service.
More Flexible
In a digital campaign, the results can be monitored in real time. You can check the performance of a campaign for a period and regulate the campaign without involving much regulation costs. Traditional or outdoor marketing is comparatively rigid as it takes weeks or months to get results. Additionally, you can't think of regulating hoardings or TV ads on a daily basis as it would involve huge costs.
Less Expensive
With millions of people marking their presence on the internet platform at present, digital marketing is far lesser expensive than the traditional approaches. Marketing on media such as TV, magazines or radio requires huge budget and doesn't offer real time results. In contrast, advertising on these media can be replaced by effectual digital marketing campaigns for lesser cost and improved return on investment.
The essence of digital marketing is increasing consistently, making it essential for every company to register its presence. Although you shall not replace traditional marketing entirely with the digitalized campaigns, you may consider digital marketing as an inevitable part of marketing. Moreover, the traditionally proven strategies should be blended with digital marketing strategies to optimize revenue.
If you have any ideas or benefits of digital marketing over traditional marketing, feel free to share with us through the comments section.
Happy Digital Marketing!